Team Building and Analytics – data is power
People don't work in isolation, and neither should your data.  Beyond individual assessment scores, you need to look at the bigger picture of how people interact to get the full story.  Spot patterns and trends, predict risks and leverage strengths by turning information into actionable business insights. Whether you're building a team from scratch, or hiring to fill a gap, TalentClick's analytics give you super-powers to build and develop high performing teams.
Our self-serve tools empower you to slice and dice the data you need for organizational planning, right at your fingertips.

Simply log in to our online portal, select the assessment solution you want to analyze – choose from Workstyle, Values, Cognitive or Safety.

With easy click-to-add functionality, add team members and run your report within minutes.

Individual scores are plotted on a group report for a powerful snapshot of personalities.  What do the top performers have in common? How does one high-functioning team look different than the one that's struggling?
HOW TALENTCLICK CAN HELP
For Hiring
Visualize how a candidate will fit in with your current team, their similarities and differences, strengths and challenges.

See how they compare to other top performers or under-producers.

Predict team dynamics, communication, and conflict management.

Balance team strengths, and fill in potential gaps to minimize risk.

Ensure proper fit for job types, teams and company values to increase retention and lower turnover.
For Training and Development
Improve team communication, problem solving and performance by using group reports to facilitate fast and effective team-building.

Bring teammates together to better understand each other's workstyles and personalities.  It is the most effective way to improve how your team functions and interacts with each other.

Develop team and individual action plans to help improve performance and minimize conflict.

Identify patterns of personality fit to job type, leadership potential, optimum performance.

Collaborate positively and effectively to strengthen culture and reach company goals.
For Safety
In addition to all the points above, additional insights are valuable for safety-sensitive environments.

Compare one worksite with another.  Why are incidents higher in one location?  What key personality traits are primary indicators of risk on your team?
RECOMMENDED RESOURCES
Team Analytics Sample – Laborer Benchmark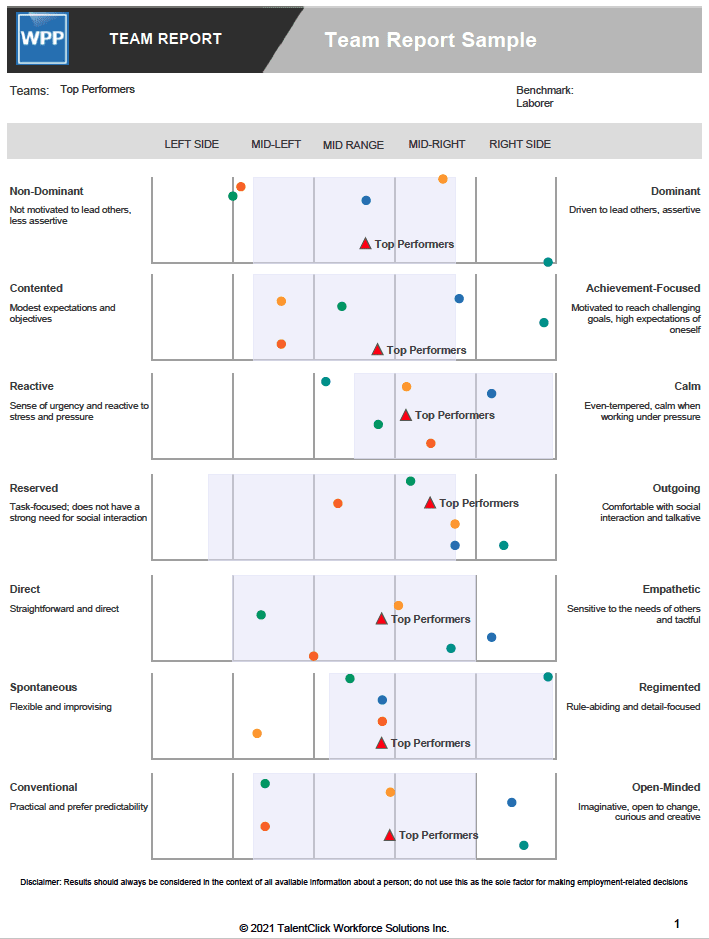 Sample Team Report – Driver Risk Analytics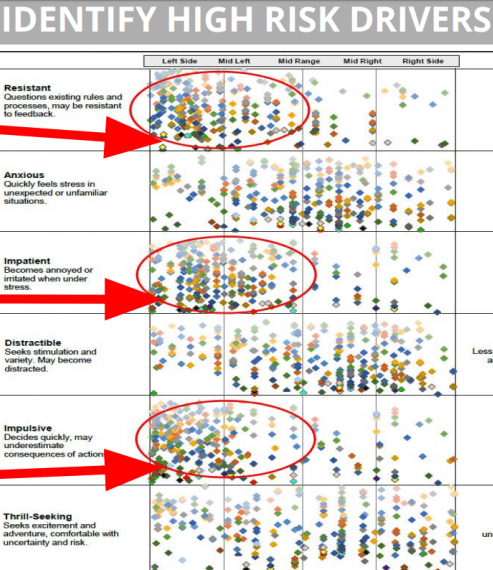 Sample Report Candidate Comparison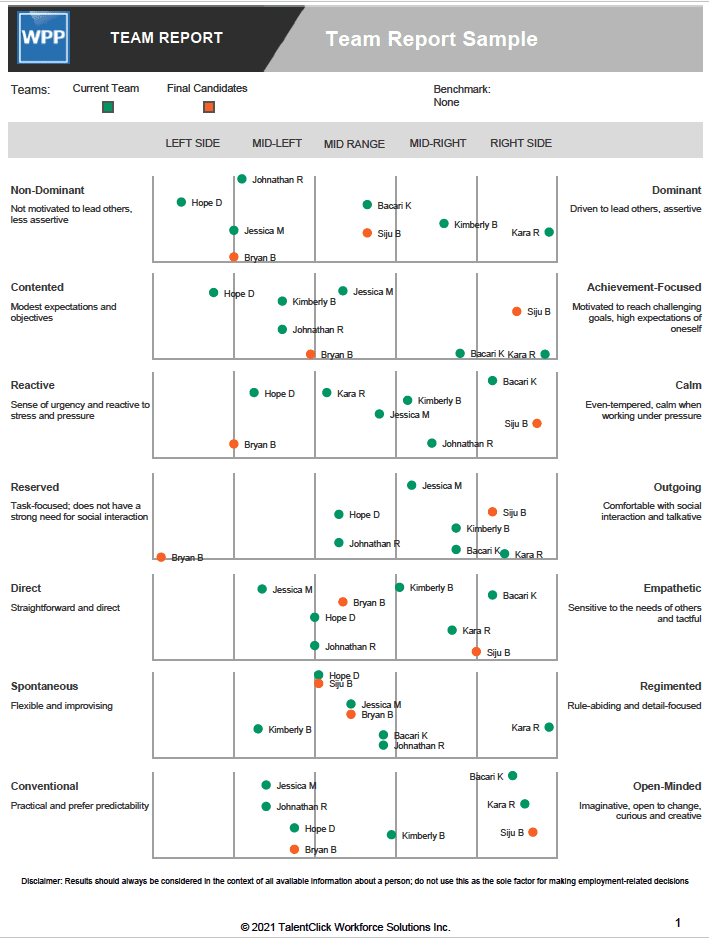 RECOMMENDED SOLUTIONS
Workstyle and Performance Profile (WPP)
Safety Quotient (SQ)
Driver Safety Quotient (DSQ)
TESTIMONIALS
"TalentClick's WPP assessments have helped me build a more cohesive team. I don't remember the last time I had to deal with a 'cultural' fit issue."
– Branch Manager
"TalentClick gave us actionable insights into our driver personality-to-road-safety data analytics. Helped us scientifically understand and see our culture, so we could take proactive control in building that culture. We believe our teams personalities are the building blocks of culture."
– VP HR