Identify Top Sales Employees to Grow Revenue & Reduce Turnover
Top 3 challenges we help organizations solve by assessing top sales talent:
Reduce Turnover by identifying top performing sales people who are also a good fit for your organization
Grow revenue and build client relationships with top sales talent
Determine if a candidate's values align with your team and culture




How We Help: Predictive Analytics
As a sales manager, have you ever hired someone who you thought was going to be a great sales rep, only to find out that person isn't hitting their outbound-calling metrics? It's not that they
can't
make cold calls; it's that they
won't
.
The reason is simple: a sales 'hunter' is quite different than a 'farmer'. Sales hunters are naturally hard-wired to be more direct and achievement-oriented, and they can handle rejection quite comfortably. On the other hand, sales 'farmers' — who are excellent at account management — are more inclined to be social, empathetic, and collaborative, and when they get rejected, well…call reluctance starts to kick in.
There is no right or wrong personality; these are just very different profiles who fit with very different roles.
20% Reduction in Employee Turnover
Our reports helped State Farm identify and hire insurance sales and service personnel who:
Decreased Employee Turnover by 20%
Increased Insurance Sales by 5%
Improved Customer Satisfaction scores by 14%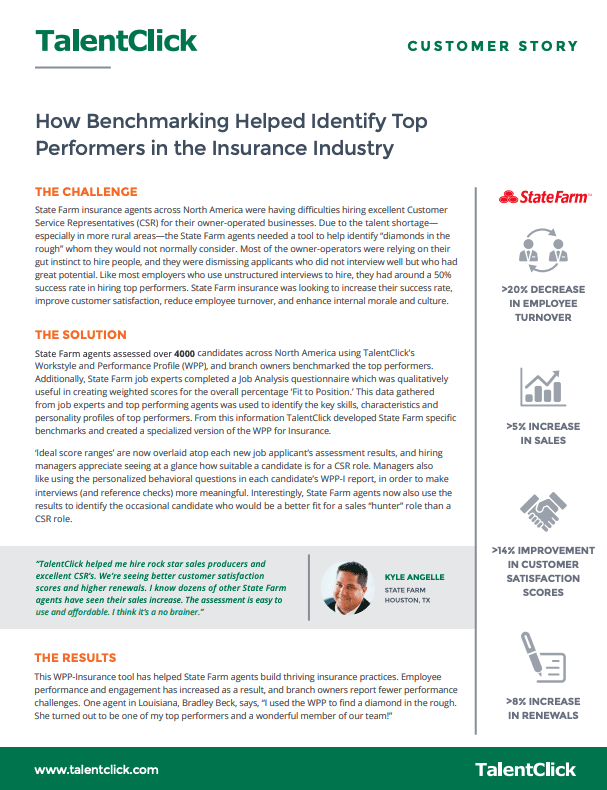 Our solutions are bundled in easy to use unlimited subscriptions so you can test everyone! Check out our pricing and receive an instant quote here: