Predict Safety Risk in Natural Resources
TalentClick helps you hire and develop top-performing workers and supervisors with behavioral assessments focusing on predicting Strengths AND Risks to prevent incidents related to Human Error across many Natural Resources organizations, including Forestry, Mining, & Oil & Gas.
The top 3 challenges we help Natural Resources organizations solve:
Hiring and Retaining the right workers by helping you screen in more high potential workers during a candidate shortage.
Ensuring the safety of workers by predicting risk-related behaviors that could lead to increased job site risk and incidents. 90% of incidents are related to human error.
Combating the challenging economic environment by hiring and developing more efficient teams to remain productive and competitive.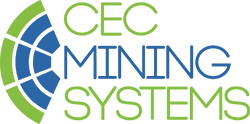 How We Help: Predictive Analytics
TalentClick behavioral testing provides insight into a worker's default personality traits and how those traits impact their
safety risk
and
on-the-job behaviors
for frontline and supervisory positions. All our assessment reports provide personalized interview questions, manager tips, and job fit considerations relevant to the candidate's strengths and risks to help them perform better at work.
Screen in more candidates by determining their risk tolerance and fit to both the job and the culture of your organization.
Increased Safety Self-Awareness and Employee Engagement in Renewable Energy Company
Valero participated in Safety Self-Awareness training and used the Safety Quotient (SQ) assessment to provide insight to their workers. They found the following improvements after the training:
Reduction in spills, product losses, and quality issues
Prevention of workplace incidents
82% of participants engaged and found the training effective
Visible improvement of safety behavior in the workforce!
See how Valero created safer work environments by reading the full story: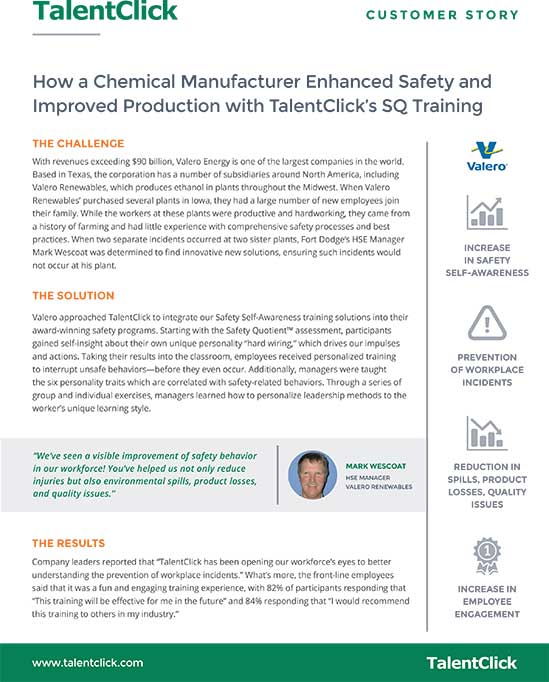 TalentClick recommends the following solutions to assess your workers:
Our top product for Natural Resources organizations, the AVP provides interview questions, management tips, and job fit considerations for attitudes, personality, safety, and cognitive ability.

See a worker's default personality traits correlated to safety-related behaviors and increase safety self-awareness in your organization's workforce.

Get a Quote

Our solutions are bundled in easy to use unlimited subscriptions so you can test everyone! Check out our pricing and receive an instant quote here: