Identify Top Sales and Service Agents in the Insurance Industry with Behavioral Assessments
The top 3 challenges we help insurance organizations solve with our Attitude-Values-Personality (AVP) Profile:
Sales, Service, & Leadership Identification by helping create talent pipelines for effective, high-performing employees
Overcome Talent Shortage by finding the right employees who stay in jobs longer to reduce employee turnover
Identify Values important to your organization and provide insights when a candidate's values misalign with yours




How We Help: Predictive Analytics
TalentClick behavioral assessments for the insurance industry provide insight into a candidate's default personality traits and how those traits impact their on-the-job behavior. All our assessment reports provide personalized interview questions, manager tips, and job-fit considerations relevant to the candidate's strengths and risks to help them perform better at work.
Screen-in more candidates by understanding that their behavior will bring the right mindset to the job.
Reduce Employee Turnover by 20%
Our reports with insurance industry benchmarks helped Kyle Angelle, an insurance agent, identify and hire insurance sales and service personnel who:
Decreased Employee Turnover by 20%
Increased Insurance Sales by 5%
Improved Customer Satisfaction scores by 14%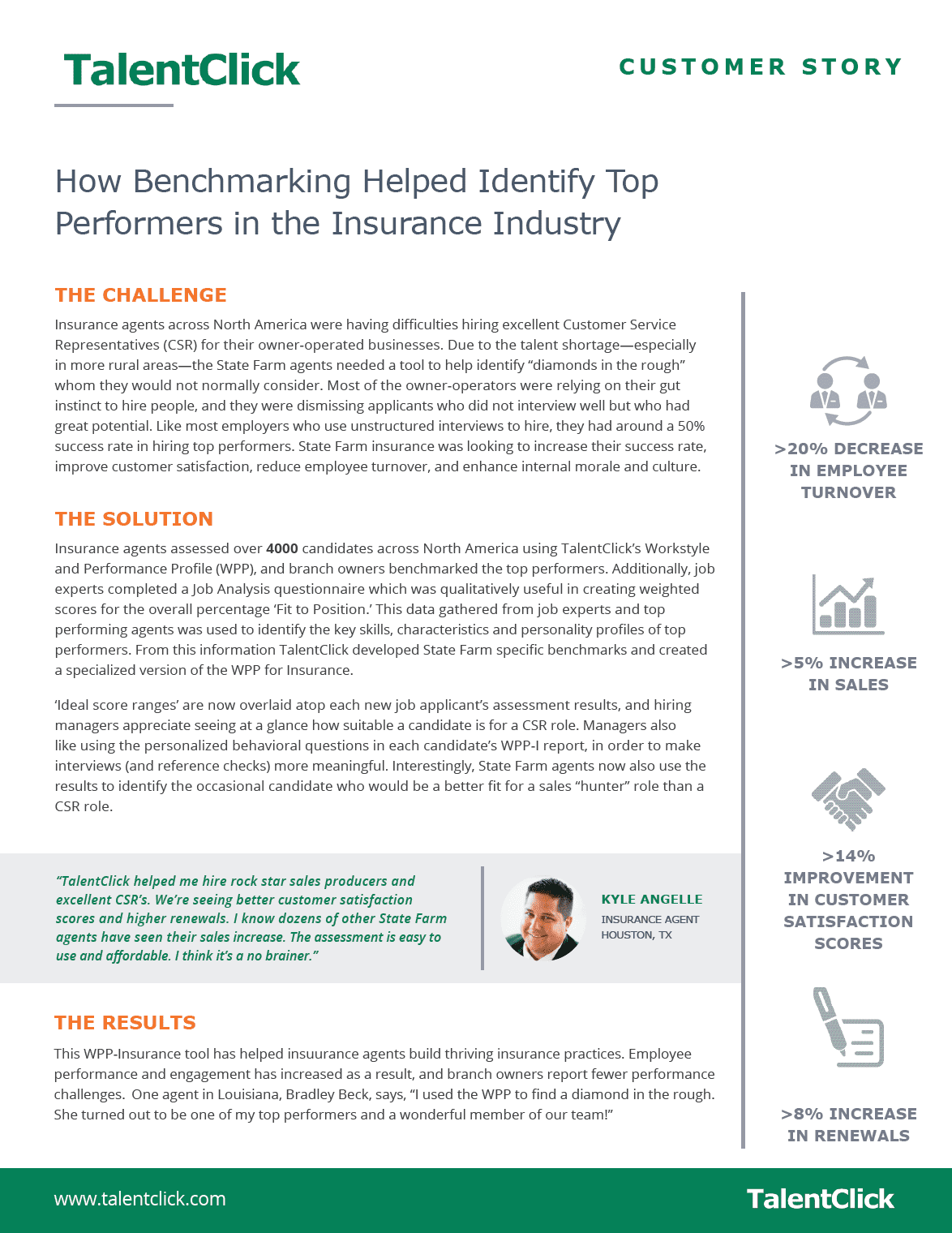 TalentClick recommends the following solutions to assess your employees:
The AVP combo reports with Insurance Benchmarks will provide insights into a candidate's fit for your organization's job and culture. Take the 10-15 minute assessment now to see your own strengths and risks.

The Leadership Profile can help you with succession planning within your organization. Get a better understanding of candidates' Business Reasoning and Conflict Management Styles. Learn more about the LP:

Get a Quote

Our solutions are bundled in easy to use unlimited subscriptions so you can test everyone! Check out our pricing and receive an instant quote here: