The TalentClick Portal – Advanced Analytics and Secure Data Storage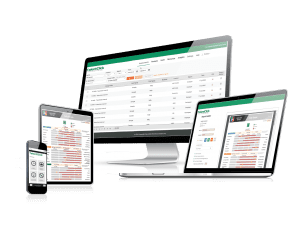 The TalentClick cloud-based portal is more than just an inventory of your TalentClick reports. Included in every unlimited-use subscription, the easy-to-use TalentClick Portal gives you the tools for deeper insights into individuals and teams by taking assessment results to the next level. From your Dashboard, you can build reports to suit your needs or dive into workforce analytics. Put your data to work for you with the TalentClick Portal.
The TalentClick Portal includes:
A Dashboard to keep all your data and reports secure and in one place for easy, on-demand access and future reference.
An Invite tool to send links to participants with a pre-worded email and links ready to go!
A Benchmark Library of "ideal profiles" that are mapped to top-performing traits by job type.
Report Builder to customize actionable reports with benchmarks, fit scores, management considerations, and interview questions.
The Fit Score Sorter to help you rank applicants by job fit so you can spend your time on those most likely to be successful in the role.
Team Analytics for advanced workforce intelligence. Quickly view multiple participants in a scatter plot layout to discover insights about your teams or compare final candidates.
Resources including, report interpretation guides and "how to" videos to help you action report insights with confidence, and get the most out of your reports.
Access Support to create tickets or chat with our support bot to troubleshoot any situation. Our Client Services Team has a 96% customer satisfaction rating and answers every ticket within one business day.
Usage Reports to help you keep track of who is using your reports and how often.
And More
How TalentClick Can Help
For Hiring
Invite applicants to take the assessment using our email templates, or easily copy and paste into your own email platform.
Use the Fit Score Sorter to narrow down your candidate pool when you have a high volume of applicants.
Identify high potential applicants you may have overlooked and screen IN more candidates during a hiring shortage.
Use Team Analytics to compare your final candidates, and to view them alongside the team they will be joining to see how they fill gaps, or where there may be conflict. Check out this Sample Report to see!
Access reports with personalized interview questions to help you probe deeper into a candidate's strengths and risks. Asking better questions helps you make better people decisions.
For Training and Development
Share Participant Reports with employees to help them improve performance with on-the-job self-awareness of their strengths and potential blind spots.
Run Team Analytics to identify areas to improve team communication, problem-solving, culture, and performance.
Build custom reports for succession planning by assessing an employee for a new role to see job fit.
Use reports to prepare for personalized performance reviews, confirm strengths and find areas for improvement or coaching.
Find coaching exercises and management tips to help your managers develop and train employees effectively through every phase of the employee lifecycle.
Testimonial
"I have been using TalentClick psychometric assessment tools for 6 years and it's been a game changer – I don't interview without the insight it provides."
– HR Corporate Services Executive