Build the Driver Safety of your Fleet

Through self-study and instructor-led training, you can improve the Safety Self-Awareness of your fleet. With your Free 30-Day Unlimited Trial you can identify the Default Personality of your drivers and provide personalized coaching and self-study strategies to empower them to make safer driving decisions.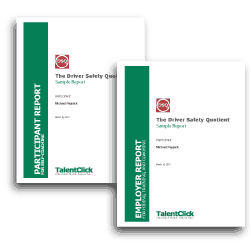 No Risk Free Trial
Try the full, unlimited version of the Driver Safety Quotient™ free on your fleet. Evaluate potential hires or gain insight into long-time employees with both the Participant and Employer Reports to begin building a safer, more aware fleet.
Click to view a sample Employer Report >>
Click the link below to register for your FREE 30-Day Unlimited Trial and begin improving the driver safety of your fleet.
[orange-link]Register For Your Free 30-Day Unlimited Subscription[/orange-link]