Strengthen Your Safety Programs
Safety Quotient™ (SQ™) uses proven assessment technology to measure the unique personality traits directly connected to unsafe behaviors. Companies using SQ™ have reduced the risk of workplace incidents by up to 20%!
With your Free 30-Day Unlimited Subscription, you can begin developing the Safety Self-Awareness of every single one of your employees. The SQ™ provides participants with a self-study workbook designed to interrupt unsafe behaviors and increase their Safety Self-Awareness. Employers can use the SQ™ for Pre-Hiring, Onboarding, and Developing Current Employees.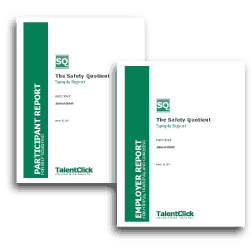 No-Risk Free Trial
Try the full, unlimited version of the SQ™ free right now for 30-Days. Evaluate potential hires or gain insight into long-time employees with both the Participant and Employer Reports to begin building a safer, more aware workforce.
Click to view a sample Employer Report >>
Click the link below to register for your FREE 30-Day Unlimited Trial
[orange-link]Register For Your Free 30-Day Unlimited Subscription[/orange-link]