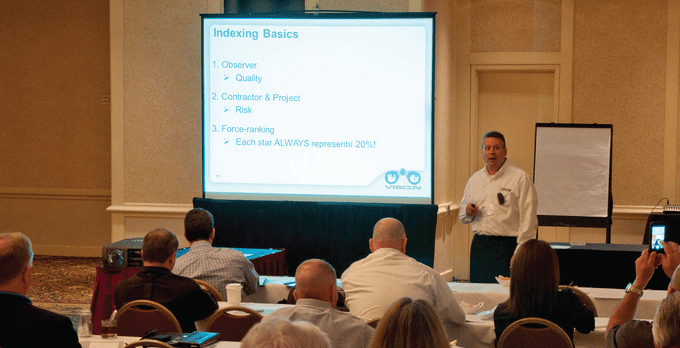 TalentClick chats with a Process Improvement Leader by the name of Cary Usrey from a company called Predictive Solutions.
As a veteran of the military (and being involved in the U.S. Navy's nuclear power program), Cary understands and appreciates the importance of health and safety due to the potential for catastrophic accidents.
With over 16 years of combined experience as a Business Unit Safety Director and an EHS Director, Cary brings an experienced and professional outlook to the world of workplace safety.
Join us as we discuss safety strategy, what safety leaders can do right now to improve their safety protocols, and Cary's favorite thing to hear from clients!
What led you to a career in safety?
Cary Usrey:
As a veteran of the military, I was involved in the U.S. Navy's nuclear power program. I learned to appreciate the deep level of commitment to health and safety due to the potential for catastrophic outcomes. I learned many valuable lessons such as effective communication, proactive safety management, and good protocols made for a safe work environment. I took that appreciation and knowledge and applied it to a career spanning well over 20 years now in both general industry and construction.
Please tell us a little bit about Predictive Solutions.
Cary Usrey:
Predictive Solutions hosts a program known as SafetyNet. It is the leading safety management system for saving lives by predicting workplace injuries. This hosted Software-as-a- Service (SaaS) solution enables customers to measure the effectiveness of their safety programs, determine leading indicators of risk and identify where their next injury is likely to occur. SafetyNet assumes that many observable indicators of injuries and fatalities, if corrected, can prevent incidents from occurring. It is the only solution that proactively uses these indicators to predict workplace injuries in order to prevent injuries.
What is the science behind Predictive Solutions?
Cary Usrey:
Our predictive models draw real-time conclusions about our customers' future risk using their safety observation data. For instance, our "Red Flag" model identifies projects, sites or work groups that exhibit characteristics suggesting they are at a heightened risk of having a safety incident. Predictive models are extremely useful when the level of data or the number of projects, sites or work groups becomes too large for humans to process.
Our proprietary predictive models were developed in collaboration with world-renowned expert in data learning algorithms, Jaime Carbonnell, Ph.D, and his team at Carnegie Mellon University in Pittsburgh, Pennsylvania. We "train" models by feeding them actual workplace safety observations collected by our customers, as well as historic work site incidents such as injuries and fatalities. The models use advanced learning algorithms including support vector machines (SVMs) and/or decision trees to learn the relationship between safety observation data and historic work site accidents.
Based on these algorithms, the models can identify work sites that have a high risk of incidents. Our available data-set includes more than 100 million observations from more than 15,000 work sites. Our models are rigorously back-tested to verify their accuracy. They are also continuously retrained and validated with new data to keep them up to date. In a recent study, the model accurately predicted injuries 84 percent of the time using at-risk behaviors and conditions collected during safety observations and inspections. As technology advances, newer models are expected to improve upon this rating.
What are some of the most common safety challenges clients come to you with?
Cary Usrey:
Ultimately, there is a series of questions that companies are challenged with. The more specific the question, the harder it is to answer, especially for an entire company. The most pertinent are these: * Is this happening across my entire organization? * Why are things happening? * What if these trends continue? * What will happen next? Most companies collect work site safety observations.
From that information, they can often query or drill down, but are often limited to information from a single location such as a facility or project. Our system allows the data across the entire organization to be rolled up to the company level down to the entity observed at a specific location. Most companies want to move their observation program from paper or an electronic format. However, there is a HUGE leap to then correlate the data such that it can be leveraged to gain transparency and visibility across an entire company.
How have predictive analytics become a game-changer in the world of safety?
Cary Usrey:
For that, I'll share two great quotes from industry leaders: Terrie Norris, President of the ASSE (at the time of the quote), stated this – A statistical plateau of worker fatalities is not an achievement, but evidence that this nation's effort to protect workers is stalled. These statistics call for nothing less than a new paradigm in the way this nation protects workers.
Rex Tillerson, CEO of ExxonMobil, stated this when accepting the Green Cross for Safety award from the National Safety Council – We aim not only to analyze safety incidents after they happen, but also to identify exposures and at-risk behaviors before they lead to safety incidents. We have also joined cross-industry working groups to better understand the precursors to serious injuries and fatalities. The groups aim to develop a set of methods for more effective intervention to prevent serious injuries and fatalities.
In looking at these quotes, the safety industry is on the verge of this new paradigm. We know the paradigm exists and is proven and those who adopt it will make a positive difference. That paradigm is predictive analytics. Companies are already leveraging data to make more money. Target and Amazon have been using it for years. Professional baseball, as shown in the movie 'Moneyball', have been using it for years. Why then aren't we leveraging all the safety data out there to save lives?
STAY TUNED FOR PART TWO
Join us for part two of the interview on Monday, May 18th where Cary provides his opinion on online safety training, what safety leaders can do right now to affect change, and the most rewarding thing he likes to hear from clients!
In the meantime, you can check out Cary Usrey's author page to learn more about him and get up to date with his most recent publications.
You can also connect with Cary on LinkedIn and Twitter.