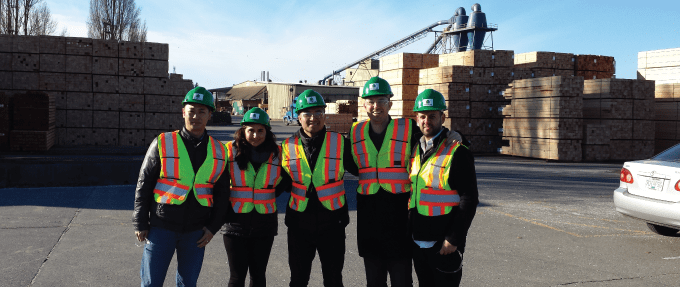 TalentClick Visits Interfor's Acorn Mill in Delta BC
When we first sat down with Randy, Acorn Division's Mill Manager, it was easy to see that Interfor runs a tight ship. Cautiously open with company information, Randy shared details of how Interfor has evolved to become both a productive and safe company to work for. We were lucky to have learned a great deal about how the mill operates and what precautions are taken to keep workers safe. However, what we found most interesting was the frequency and severity of "Lock-Outs", something that happens about 500 times each week, taking anywhere from a few seconds to an hour! Read on to find out how Interfor is keeping their workers safe.
What is a "Lock-Out"?
A Lock-Out is a safety measure Interfor uses to ensure a safe environment for equipment operators. It involves "locking" a piece of machinery, like one of their many 10 foot band saws, from electricity, air, and hydraulics, so that an operator can go and remove errant lumber. These typically occur after a wayward piece of lumber goes off track and would otherwise hinder production.
Initially shocked by how casually Randy described this to us, our team soon learned that this is such a normal occurrence that workers at their mill just see it as a part of their job. Furthermore, the safety precautions put in place ARE the process, and not an option, so nobody sees them as productivity killers like many who work in safety-sensitive roles perceive. In the end we realized that safety is so important to Interfor that it actually became such an integrated part of the process that staff and management don't even consider any alternative.
You'll Never Win Against Equipment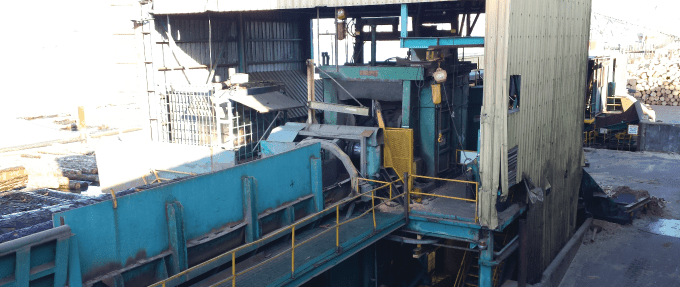 Further along in the conversation, we found out why Interfor is so dedicated to safety. Randy put it bluntly, "You'll never win against equipment. Well, nothing in this mill that's for sure!" Evidently, every single piece of equipment in their mill or lumber yard can cause serious injury, if not fatal, if workers are careless.
Take for example, the De-Barker (pictured above). It's functional purpose is to strip the bark from tree-size logs that come into the mill prior to production. It is large, fast, and unforgiving. Therefore, there are numerous physical and people-related hazard protections in place to keep people from ending up in the path of danger.
Rules, Procedure, and Follow-up
The key to Interfor's success is a thorough socialization process, designed to mitigate risk, that begins before a worker's first day. Prior to stepping foot on the mill floor, a new recruit must go through a rigorous application and interview process that produces only the most mature and skilled candidates. This does not imply that Interfor only seeks older, more experienced workers, but those that show a maturity level that typically leads to better (i.e. "safer") decision making.
Once a candidate is selected, he begins his first day on the floor by never touching equipment. Instead, he is placed in a peer mentorship program with a thorough education in rules, procedures, and cultural norms for the mill. Scored on a daily, weekly, and monthly basis, the worker is put to the test to ensure that he is going to be a productive and safe worker moving forward. Any risk areas are identified in these evaluations so that management can properly coach the workers and remove their safety-related blind spots. This process also serves to make workers more mindful and aware of how their actions affect others while also contributing to overall production.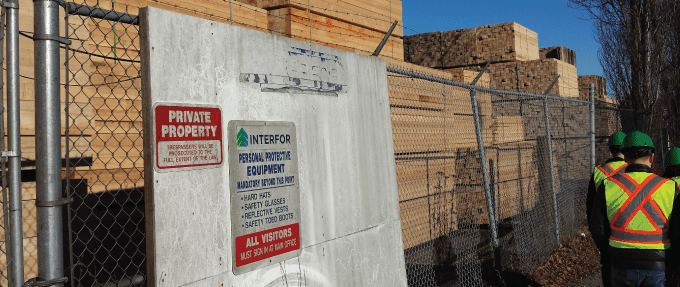 Thanks for the Opportunity
It's easy for corporations to pay lip service to safety, but Interfor is truly committed to providing a safe working environment for its staff. This is even more obvious in the proud and thoughtful way Randy proclaimed that "workers really take ownership in their own and their peers' safety". In return, they have an enthusiastic and productive workforce that creates only the highest quality lumber for customers around the world.
On behalf of the whole team here at TalentClick, I thank you Randy along with the rest of Interfor for giving us this amazing opportunity to see a successful safety program in action.