Sign Up to Download Your Free Guide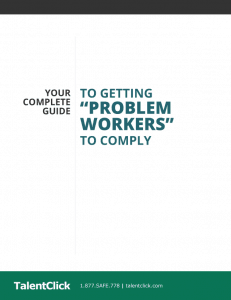 This straightforward 5-step guide includes 12 pages of practical tips for getting even your most challenging workers to WANT to follow direction and contribute positively to your workplace safety programs. Based on decades of research into behavior psychology, this free guide takes you through the process of changing the "higher-risk" behaviors of workers that are most likely to cause incidents and injury due to human error.
Why Download This Guide?
Your Complete Guide to Getting Problem Workers to Comply is recommended for any Supervisor, Foreman, Superintendent or person who manages workers in safety-sensitive roles and due to problem workers is experiencing:
Production delays
Equipment damage
Citations & fines
Incidents, injuries or fatalities
Environmental disasters
No Training Required
Rest assured, the content in this guide does not require advanced tools and equipment or even advanced knowledge. You need only the motivation to help your workers be safer on the job and the time to make true, measurable impact.
For a supplementary video to this guide, view How to Get Problem Workers to Comply