Sign Up to Download Your Free Guide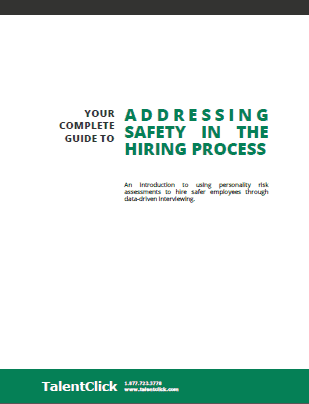 This comprehensive 3-step guide includes of practical tips for hiring and retaining top performers who contribute positively to your workplace safety programs. Based on decades of research into behavior psychology, this Free Guide takes you through the process of leveraging personality risk assessments to hire safer employees, leading to a reduction in incidents.
Why Download This Guide?
Your Complete Guide to Addressing Safety in the Hiring Process is recommended for any Hiring or Human Resources Manager in a safety-sensitive workplaces that may be experiencing:
Above average employee turnover
Low employee engagement
Labor shortages
Poor employee fit
No Training Required
Rest assured, the content in this guide does not require advanced tools and equipment or even advanced knowledge. You need only the motivation to hire and retain top performers who exhibit safer workplace behavior.