Predict High-Risk Drivers: Try the Driver Safety Quotient Now!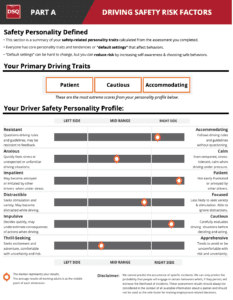 Human Error causes 90% of Driving Incidents. Our short, easy to interpret DSQ reports help you predict high-risk drivers before you hire.
Identify the high-risk drivers most likely to be distracted, rule resistant and cause costly incidents on the road. Drivers and operators who are highly Distractible have on average 139% more at-fault accidents.
Reduce turnover by predicting who is naturally suited to the job. "Ideal profile" candidates stay on the job 40% longer.
Screen in more qualified drivers in a candidate shortage to help keep your business moving ahead.
Try our DSQ now and see how easy it is to spot a high-risk driver before you put them behind the wheel.