The Easiest Way to Assess Culture

Safety Culture encompasses the ways in which safety is managed in the workplace. It is formed by various factors including attitudes, beliefs, perceptions, policies and values related to safety. It reflects the commitment to safety at all levels in the organization and how safely members of the organization behave on a day-to-day basis. Safety Culture is strongly influenced by upper-level management, but also by the behaviors of everyone in the organization.
The Safety Culture Perception Survey provides useful business intelligence for decision support around safety initiatives, culture, employer branding, employee engagement, and more. The extended report provides aggregate industry data and feedback from your employees. Employee feedback survey takes no longer than 15 minutes, and the questionnaire is performed online, allowing participants to complete them anywhere they have an internet connection, including their mobile devices.
Why You Should Utilize the Safety Culture Perception Survey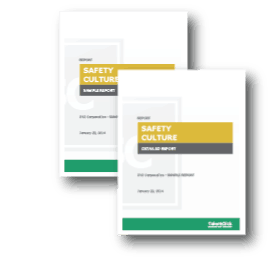 Identifies areas for improvement
Attract and retain valuable employees
Allows your organization to better achieve its business objectives
Potential to save you hundreds of thousands of dollars a year from an increase in employee engagement and compliance
What is measured
Data will be collected through an Employee Feedback Survey that will gather employee feedback from all levels of participating organizations and their view of safety practices and behaviors in their workplace. Employees will complete a 10-minute online questionnaire to provide this information.
How to start assessing your culture
For an extended look at Safety Culture at your company, inquire about the Detailed Report. This report provides a breakdown of employee responses by job type, location and tenure, as well as all feedback from employees regarding their perception of safety culture in the organization. Call 1-877-723-3778 ext. 108 for more information and to order your report.