Start Your Safety Quotient (SQ) Free Trial*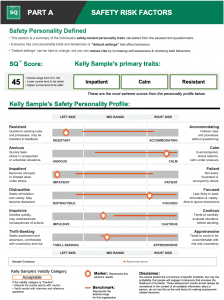 Experience firsthand our leading risk-based employee personality assessments to hire and train better employees. Our proprietary assessments are cloud-based, easy to use, and are a game-changer in the world of psychometric testing.
Through a 10-15 minute online assessment, Safety Quotient™ measures participants' personality risk factors to predict which of your front-line employees are high-risk for these traits. Years of research into workplace safety have uncovered 6 personality traits that are directly correlated to employee safety:
Resistance
Irritability
Distractibility
Impulsiveness
Anxiousness
Thrill-Seeking
Try the Risk Assessment Now!